Hi every one! Thanks so much for following. 24 new followers in a single day! Keep telling your friends to join. In the meantime, I'm lining up some seriously sweet prizes for upcoming contests, exclusive to Phat Ally followers. How awesome are these prizes, you might ask? THIS AWESOME.
This post is adapted from the Huffington Post article entitled "
Celebrities & Weight: 16 Stars Who Have Taken a Stand Against Hollywood's Standard of Beauty
".
Jennifer Lawrence:
"I eat like a caveman, I'll be the only actress who doesn't have anorexia rumors," Jennifer Lawrence told Elle. "In Hollywood, I'm obese. I'm considered a fat actress, I'm Val Kilmer in that one picture on the beach."
Corresponding picture:






courtesy Huffington Post


Rosario Dawson:
Rosario Dawson has often been told she needs to lose weight, but the actress attributes her weight to her "big boobs." "I would get told by my manager, 'Rosario, you went into your audition with sweats today. If you want to wear a sweater, just make sure it's tight.' Because the casting directors would call her and say, 'She's great but the casting director needs to know if she's slim. I'm like, 'Dude, have you seen the photos I've done? You know what I look like.'"
Corresponding picture:



courtesy Huffington Post


Tyra Banks:
"To all of you who have something nasty to say to me or to women built like me," Tyra Banks said on her talk show, "I have one thing to say to you: Kiss my fat a**!"
Corresponding picture: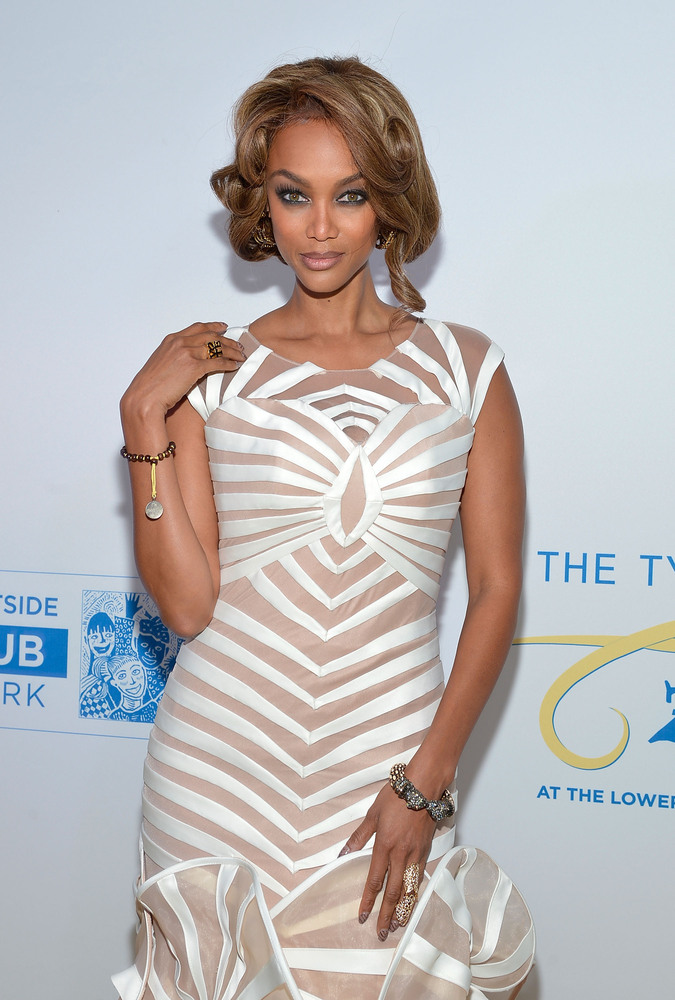 courtesy Huffington Post
Tyra, what a fatty.
I'm not saying that I don't commend celebrities for speaking out about how unfair Hollywood's beauty standard is. I am also pleased with the article for including diverse bodies, including several fat women of color (Gabourey Sidibe, Queen Latiyfah, Mo'Nique, and others).
But even as they're talking about what weight rebels they are, they are being photographed in a way that highlights all of their skinny features.
You might ask, what's the point? Isn't Hollywood just a weird alternate reality full of vain actors and bad messages about image? Well, duh. But that doesn't mean it has no bearing on our lives, even liberated, indie, modern, snobby feminist womyn who have no interest in
garbage media
. If these and all other celeb photos have a sick obsession with hiding certain body parts that are not "flattering" (ie, not really skinny or optimally beautiful), that is certainly the way my friends and I talk/obsess about our clothing choices and pictures.
This is the first hit for "unflattering photo" on google images. Uh, what?
I thought that
this Buzzfeed article
did a great job of rounding up GIFs of before and after pictures of airbrushed celebrities, demonstrating that, no matter how thin you are, you will always have your "problem areas".
You see, even this super-thin model has her armpit bulge eliminated, her skinny arm made even skinnier, her thigh pulled in.
The fabric on this model's outfit made her look too fat. She is pretty thin, but they uniformly slimmed down on every part of her.
And don't even think about having just a teensy bit of non-toned upper arm that flattens out when you press it against something else.
I want to explore this idea of what is "flattering" in future posts. These pictures may seem superficial, but "flattering" dictates our motivation in choosing almost our entire wardrobe. "Flattering" drives the entire fashion and clothing industry. It is the basis for our external sense of self-worth. And it emerged from a long tradition of thin-centric (and white-centric) beauty.